Recent las ik het boek Tomorrow's lawyer van Richard Susskind. Een geweldige praktijkschets van de hedendaagse advocatuur en vlijmscherpe toekomstverkenning. Sluitend, confronterend, verrassend en uiterst motiverend. Ik zou elke sector en elke organisatie wensen een dergelijk heldere kijk op de eigen ontwikkeling te hebben.
Het Positioning Wallpaper is een uiterst geschikt instrument om dit te doen.
Boekbeschrijving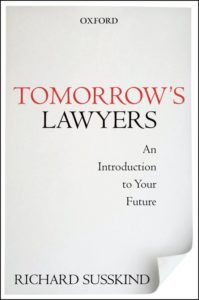 [Geciteerd van bol.com:] In his newest provocative and forward-looking volume on the legal profession, Richard Susskind-the best-selling author ofThe End of Lawyers?and The Future of Law-predicts fundamental and irreversible changes in the world of law. What Susskind sees is eye-opening-a legal world of virtual courts, Internet-based global legal businesses, online document production, commoditized service, legal process outsourcing, and web-based simulated practice. Legal markets will be liberalized, with new jobs for lawyers and new employers too.
Tomorrow's Lawyers is a definitive guide to this future–for young and aspiring lawyers, and for all who want to modernize our legal and justice systems. It introduces the new legal landscape and offers practical guidance for those who intend to build careers and businesses in law. Susskind identifies the key drivers of change, such as the economic downturn, and considers how these will shape the legal marketplace. He then sketches out the new legal landscape as he envisions it, highlighting the changing role of law firms-and in-house lawyers-and the coming of virtual hearings and online dispute resolution. He also suggests solutions to major concerns within the legal profession, such as diminishing public funding, and explores alternative roles for future lawyers in a world increasingly dominated by IT. And what are the prospects for aspiring lawyers? Susskind predicts what new jobs and new employers there will be, equipping prospective lawyers with penetrating questions to put to their current and future bosses.
Tomorrow's Lawyers is an essential roadmap to the future of law for those who want to survive the rapidly changing legal landscape.
Overweldigend consistent, zeer inspirerend.
Bekijk de presentatie van Richard Susskind.
Bestel het boek bijv. bij bol.com.
Over de auteur
Professor Richard Susskind OBE is an author, speaker, and independent adviser to major professional firms and to national governments. His main area of expertise is the future of professional service and, in particular, the way in which the IT and the Internet are changing the work of lawyers. He has worked on legal technology for over 30 years. He lectures internationally, has written many books, and advised on numerous government inquiries. Lees meer.
Recensie van Paul Lippe, ABA Journal
This is a book that should be read by all lawyers, judges and academics, but above all by students of law, for it is their future about which he writes an intensely stimulating book that is well worth careful study. Sir Philip Bailhache, The Jersey & Guernsey Law Review This concise book is a compelling glimpse into the near-future of legal services, and provides invaluable information for tomorrow's lawyers. Colman Candy, Irish Times Susskind has a knack for taking complex and complicated issues and making them simple and easy to understand. He has a clear message for in-house lawyers: the legal world is changing; law firms are changing; and law departments must change as well. This book is worth reading – it will make you think. And, hopefully help you prepare for the future. After all, law departments must adapt to the changes going on around us. Fred Krebs, Canadian Lawyer Magazine Tomorrows Lawyers is a worthwhile read for anyone involved in legal services and education, particularly if you have not read Susskind's previous books. Joanna Goodman, The Law Society Gazette Far and away the best analyst and predictor of the evolution of the legal marketplace is Richard Susskind, the U.K.-based academic and futurist. If you're in any kind of management or leadership role in law (or you just care about your own career), I would say it's a prerequisite to read Tomorrow's Lawyers.